There is no such thing as too much yarn, but there is such a thing as disorganized yarn. We created the Yarn Stash Organizer-Free Printable to add to your knit or crochet binder, so you'll always know what yarn you have available for your projects. These easy print pages slip easily into sheet protectors for your three ring binder.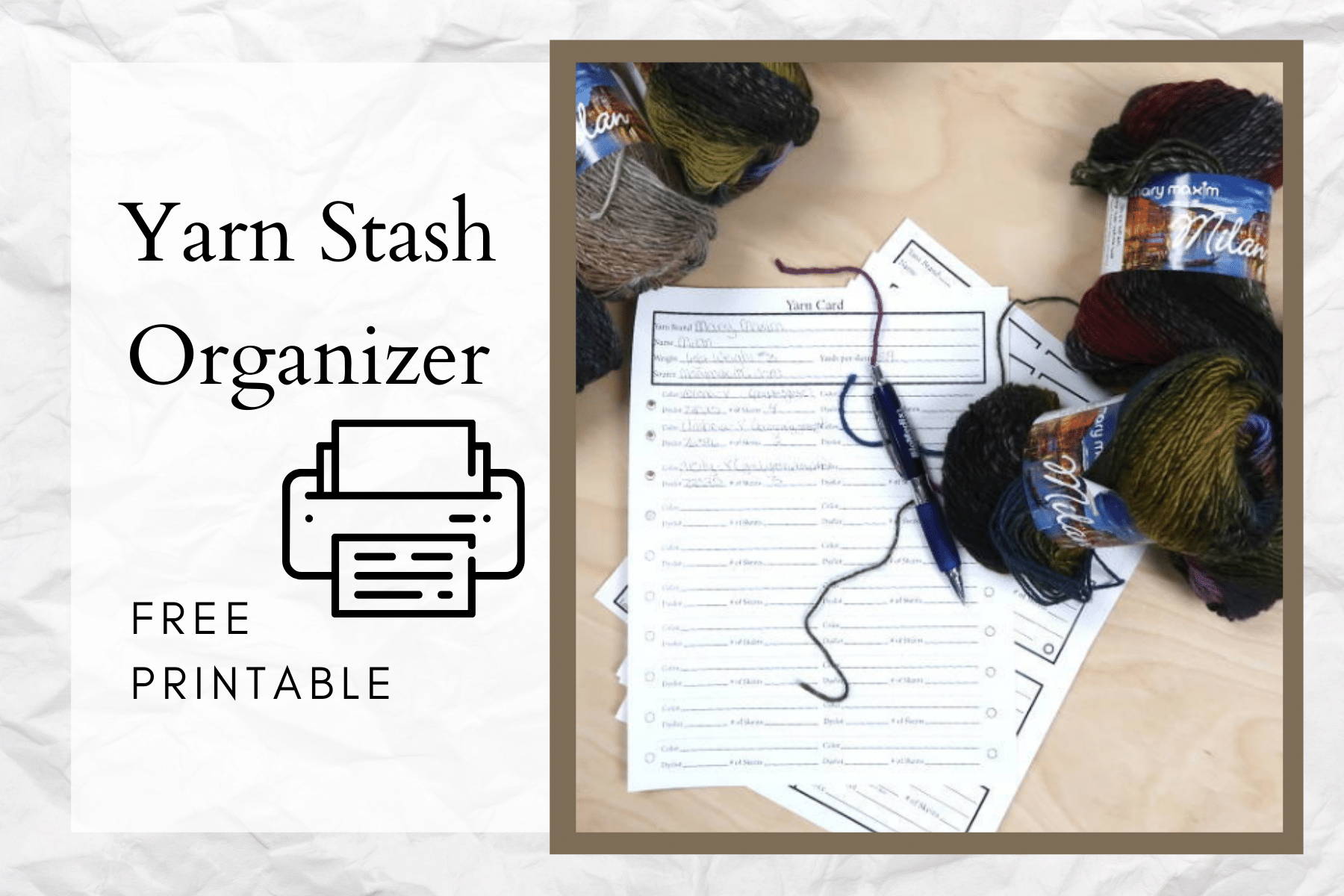 Organize your stash in two ways.

You can organize by brand with the Yarn Card. Use the top of the card to write details about the brand such as where you purchased it from, the weight of the yarn, and yards per skein. Then, moving down the yarn card, record the color you have on hand, the dye lot and number of skeins. Use the available hole punches for color swatches. This is a great card to accompany your projects.
Start by sorting the colors in your stash and record how many skeins you have of each dye lot in that color. Do this for each color of the yarn line you have. Mark this spot in pencil or laminate your Yarn Card and use a wet erase marker so you can easily keep a tally as you purchase more yarn or finish a project.

Keep this Yarn Card safe in a sheet protector for later use.
You can also keep your stash organized in a more flexible way. Use our flexible stash organizer, created to fit in a page protector or 3 ring binder, to organize your stash to your preference. Organize it by color, weight, yardage or source, and mark the location in which it's stored.
Lastly, keep your materials for your works in progress (WIP) organized easily, especially large projects that call for many colors of yarn with the WIP Yarn Card. Use the WIP Yarn Card to keep notes on your project and record your pattern colors, so you never lose your place in the pattern when you are not working on it.
Stay Tuned! We have many more Stitch Tutorials, Pattern Tutorials, and more Free Patterns coming your way. If you've always wanted to learn how to knit or crochet, then now is a great time to start. There is so much more to come, so make sure to subscribe and never miss a thing!
Be sure to follow us on Social Media!
Check us out on Instagram, Facebook, and Pinterest.
Happy Crafting!