Learning how to knit is a wonderfully rewarding experience. Before you get started, we want to warn you that it can be is absolutely addicting. To get started learning how to knit, you will want to grab some needles and yarn. For this tutorial, we are using Mary Maxim Best Value worsted weight yarn (the most commonly used size yarn) and size 8 (5.0 mm) knitting needles.

How to Knit Stitch - Video Tutorial
If you are giving this tutorial a try but don't want to wait, we suggest you use a worsted weight yarn and look at the label. There, you'll find a box like this one on the right, which gives you suggestions on what size needles to use with this yarn. When you graduate to working from a knitting pattern, always follow the gauge and needle recommendations listed in the pattern. For now, use this as a guide.

Knit Stitch Vs. Purl Stitch
The knit stitch and purl stitch are like two sides of the same coin. If you knit a stitch on one side of your work, it will appear as a purl stitch on the other. Knitting is the original binary code. In fact, the first computer programmers literally knit the computer code for machines to read. As you knit along, you may find it difficult to fully understand how the yarn is forming the loops on your needle. I recommend you knit a few rows in a small swatch then pause, and play with a stitch in the middle of your swatch. Take a crochet hook and pull out a few rows of stitches then, pick them back up. Doing so helps to wrap your mind around how knit stitches and purl stitches work together.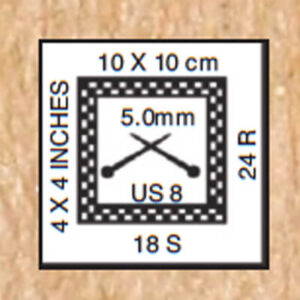 To begin knitting, we recommend that you add your foundation stitches onto your needle using the Long Tail Cast On method. For full instructions, pictures and video tutorial, make sure to check out our blog post on How to Cast On Knitting.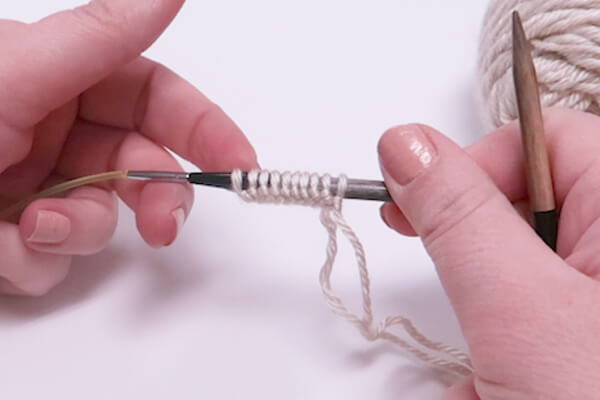 There are a few rhymes that help you learn how to knit. We'll use the nice one that I was taught to knit with, but there is another that is a bit more cheeky but very memorable. The most important part is that you remember it, so pick a rhyme that works best for you. The sample in the tutorial below is knit English Style and right-handed.

In through the front door Slip your working needle under the needle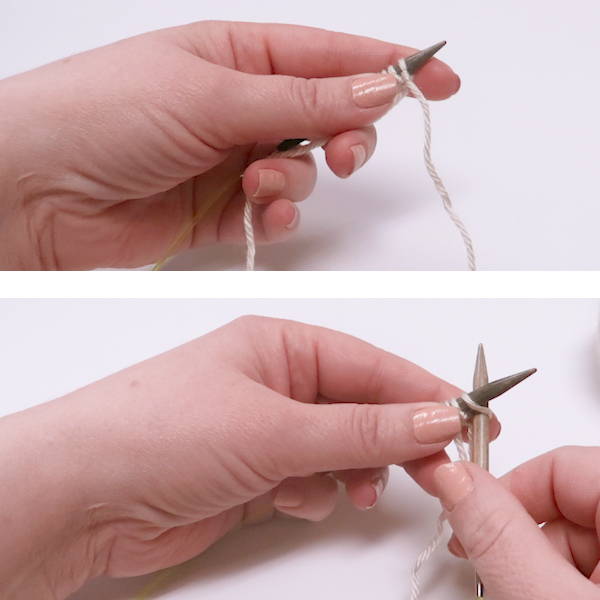 Once around the back Wrap the yarn (not the tail) around your working needle counter-clockwise, and slip it between your needles.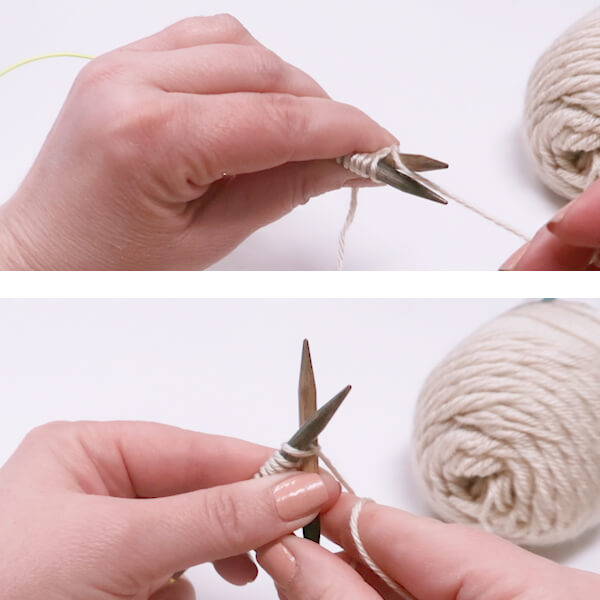 Peek through the window Slide your working needle from one side of the needle that holds your cast on stitches underneath to the other side, making sure to bring the yarn that you wrapped around the needle in step 2 with the working needle.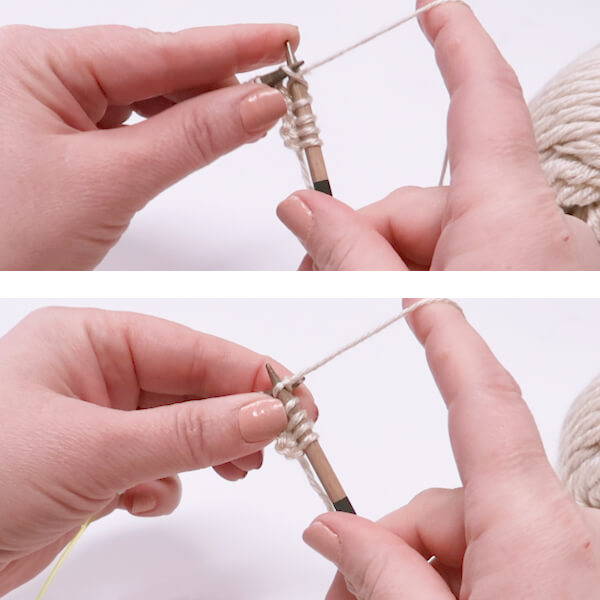 And off jumps Jack! Slide the loop off of the needle that holds the cast on stitches, or stitches from the previous row.

Here are a few tips to help you get started on your knitting adventure. If you have a friend who knits and have the opportunity to feel the way the yarn moves on the needles, then take it. Needles come in all types of material, one material isn't necessarily the best, but one material might be preferred over the another. We often suggest metal or ceramic needles to beginners; they are great for all types of yarn and the yarn tends to slip around the needle easily. As you become more proficient, you may find some needles are explicitly constructed to knit the different kinds of projects on your to-do list. Needle and hook buying can be as exciting as yarn buying, there is so much to choose from.
Dishcloths make wonderful first projects for beginners, but craft cotton isn't a great first-time yarn. Make sure that you are comfortable making a few swatches first using an acrylic yarn before you cast on with craft cotton like Lily's Sugar and Cream or Premier Home cotton. Craft Cotton can stick on your needles, and it can throw your tension off. If you've knit a few swatches, then it shouldn't be too much of an issue.
If you set down your work, try to do it at the end of the row and move the stitches to the other end of the needle so your stitches won't fall off. Doing so will help prevent holes in your work and from losing your place. If you do set down your work in the middle of a row and get a bit lost, remember if you're right-handed then the stitches you just finished are on your right, along with the yarn.
When you begin, your tension is likely to be terrible. We recommend starting with learning the garter stitch and making something simple like a scarf and using an inexpensive worsted weight yarn or larger. This will knit faster, and your tension will be considered a design element. It will improve as you go, so don't worry too much about it at first.

Stay Tuned! We are excited to begin our next stitch series. If you've always wanted to learn how to knit, then now is a great time. We will be starting our crochet stitch series soon as well, starting with the basics like we are with the knit stitches series. There is so much more to come, so make sure to subscribe and never miss a thing!
Be sure to follow us on Social Media!

Happy Crafting!