We love yarn. It is really that simple. Yarn is our favorite crafting material no matter if we are knitting, crocheting, working on a plastic canvas craft ora macrame, or doing some rug hooking. We, as fiber artists, love yarn. There are so many variables in yarn, particularly variables in yarn weights that having a yarn guide handy is a wonderful tool when shopping and planning for projects. Download and keep it in your Yarn Organizer, Knit Organizer and Crochet Organizer so you can keep all of that pertinent information at your fingertips. The downloadable yarn guide is available at the bottom of this page.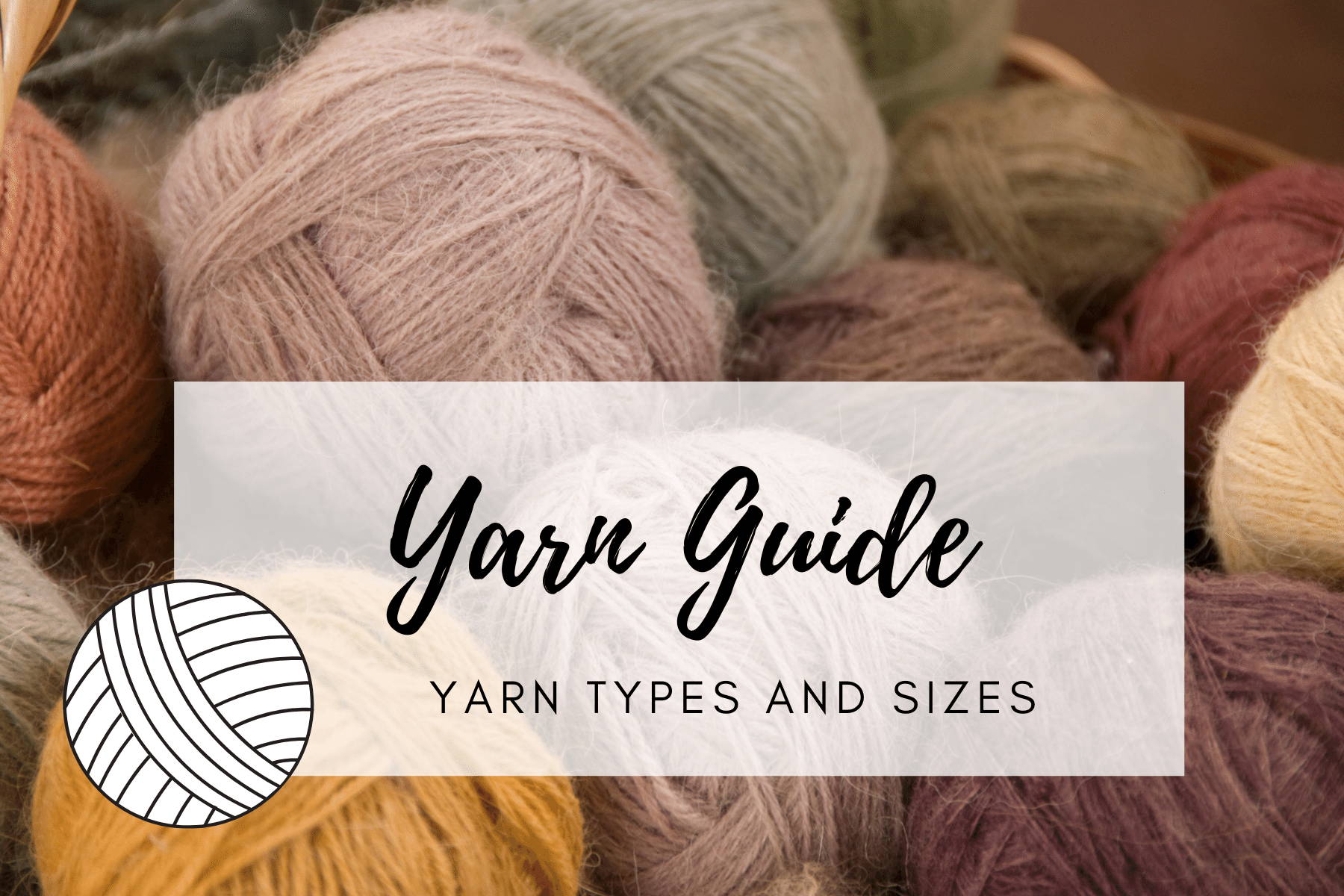 There are 8 basic weights of yarn. A central governing organization does not regulate yarn weight; however, the Craft Yarn Council (CYC) has some wonderful yarn guides on classifying yarn weight and, as an organization, has done a lot of work to standardize sizing. Most yarn weights are determined by the factories that mill the yarn unless you spin it yourself or purchase a hand-spun yarn base for dying then, it's likely to be within the CYC guides, but it might not be. It is important to note that many of the hand-dyed yarns that you purchase are also milled in factories similar to if not the exact same factory that manufactures commercial brands. Yarn weight is classified in sizes 0-7, although size 0 is often classified as thread and sizes 6 & 7 vary so much in the thickness of yarn with the addition of some very large novelty yarns, that one yarn, especially in sizes 6 or 7 does not always equate another.
How Much Does Yarn Weight Matter?
When you are knitting or crocheting from a pattern, you are essentially taking a certain size of yarn, and using a particular grouping of stitches to get the result of an exact size and texture of fabric. To accommodate for variations in tension when replicating the fabric from person to person, we adjust our needles and yarn to achieve to specific gauge required for the pattern. Adjusting your hook and needle is as important as knowing the particulars of yarn weights and where they lie on the yarn weight spectrum. Notice as you read further that there are variations within each yarn weight and an occasional overlap. You may notice that with these overlapping yarns, you can change your hook or needle size to achieve gauge in more than one category of yarn weights. This is especially important when substituting yarn. Not all worsted weights or lace weights are the same. You'll also need to know more details about the original yarn that the item was designed for. You'll have to consider other factors as well, for instance was it a boucle, was the yarn spun before the late 1990's, or maybe natural fiber. All of these factors should be considered when substituting yarn but that post is for another day.
Hook Range: 000-1 (1.5-2.25 mm)
Crochet Gauge to 4": 33-40 sts
Needle Range US: 000-1 (1.5 – 2.25 mm)
Knit Gauge Range to 4": 33-40 sts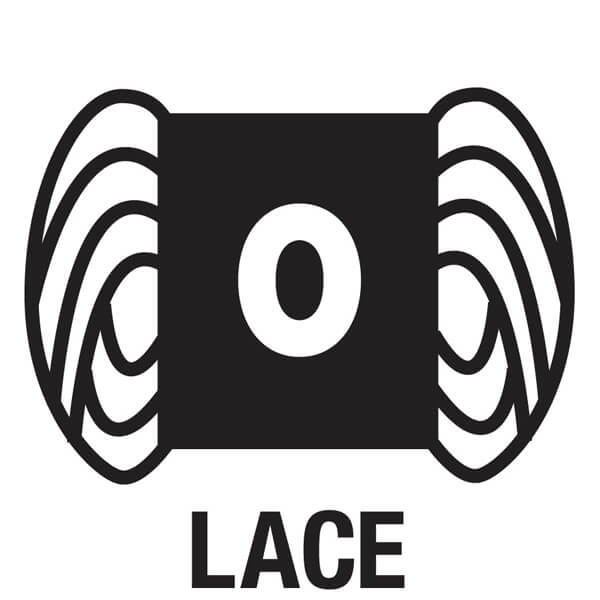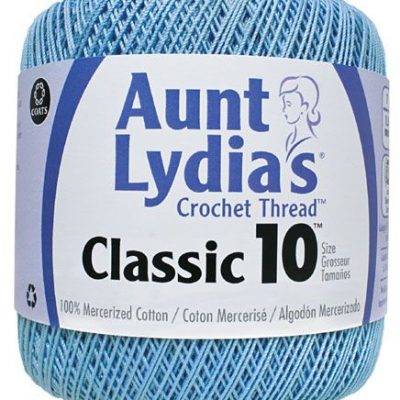 Crochet Thread is categorized as a size 0 yarn, but there are so many size variations within crochet thread it can get confusing. Crochet thread is wonderful for doilies, tablecloths and bedspreads. Crochet thread comes in sizes 3, 10, 15, 18, 20, 30, and 35 with size 10 being the most versatile and popular size, but all lying in the category of a Size 0 Lace Weight Yarn. Aunt Lydia's crochet thread is one of the most popular brands of crochet thread but you can also find it from manufacturers like Red Heart and DMC. Like other yarns you can typically find this yarn made from fibers such as cotton, nylon.
Hook Range: B-1 to E-4 (2.25-3.5 mm)
Crochet Gauge to 4": 21-32 sts
Needle Range US: 1-3 (2.25 – 3.25 mm)
Knit Gauge Range to 4": 27-32 sts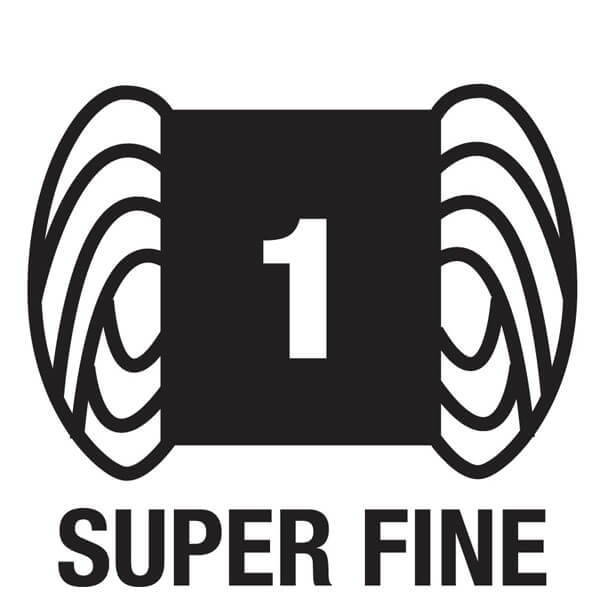 Sock yarns are so diverse and not just for socks anymore. With extensive fiber contents, and gorgeous colors no wonder people are knitting and crocheting everything from afghans to sweaters and shawls with their favorite Super Fine yarns. I have a retired friend in my knitting group who buys a hank of sock yarn from a LYS (Local Yarn Store) every time she travels and knits mitered squares for a growing afghan. It's a wonderful memento of her travels. You can easily find sock yarn in a large variety of fiber contents from wool (such as Patons Kroy Sock yarn) to alpaca, merino, bamboo, nylon and acrylic. Most sock yarns have a natural fiber content, so if you like the feel of natural fibers this is a great way to craft items at a lower cost depending on the pattern you are using.
Fingering weight yarn is a Super Fine weight yarn that is similar to sock yarn but in general isn't as sturdy as most sock yarns which are spun to withstand heavy use. Fingering weight yarns are wonderful for knitted sweaters, accessories and baby items.
Other Super Fine Weight Yarns
The Super Fine Weight Category is not limited to sock yarns. Other Super Fine Yarns like Mary Maxim Twinkle Yarn is wonderful for making items like baby blankets and our famous 5-inch doll clothes. Super Fine yarns are wonderful for highlighting the stitch detail in your work and most often used on smaller projects. Super Fine weights used to be popular for heirloom items like baby blankets, christening gowns, wedding gifts; however, what makes an heirloom has also changed. A loved handmade item passed from one to another just has to be loved to be an heirloom. Super Fine Weight yarns are perfect for baby items, since it's a lighter weight it helps to better regulate body temperature in warm weather yet keeps baby covered and protected from the elements.
Hook Range: B-1 to E-4 (2.25-3.5 mm)
Crochet Gauge to 4": 21-32 sts
Needle Range US: 1-3 (2.25 – 3.25 mm)
Knit Gauge Range to 4": 27-32 sts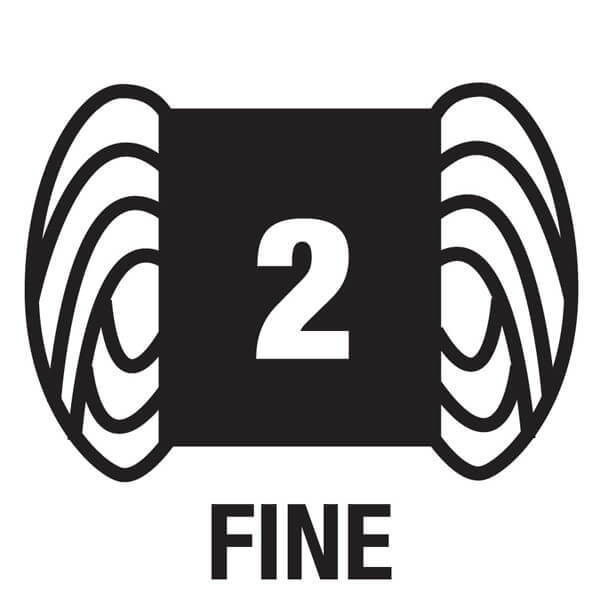 Fine weight yarn is in the middle of the typical baby yarns. Although subjective, we say typically as this is the yarn weight, you will find a lot of designs. There are certainly no hard stance rules in art and with soft, delicate yarn who wouldn't want to make beautiful items for themselves with this yarn.
We have a wonderful post on Mercerized Cotton here for more information. Currently, 56% of all textile fabrics in the United States are made up of cotton or a cotton blend. The use of cotton in garments can be found as long ago as 3000 B.C. and found in that time period in both India and South America. Crochet cotton is a high quality mercerized cotton that is typically used for Crochet and usually comes in a cone. We also call it cone cotton. It's natural luminescence makes gorgeous garments and is full of possibilities. Crochet Cotton is typically in the Fine Weight category of yarn. We also carry 100% cotton yarn that makes great dishcloths, towels, and more.
Sport Weight Yarn is a yarn that is a heavier Fine Weight or a lighter Light Weight yarn that often moves between a Size 2 or a Size 3 depending on your needle or gauge. Because of that, this yarn is particularly sensitive to gauge. Many vintage garments were designed in sport weight yarn until English designers introduced DK weight yarn garments (you can learn what is DK yarn here) to American Fashions and increasing it's popularity.
Hook Range: 7(G+) to I-9 (4.5-5.5 mm)
Crochet Gauge to 4": 12-17 sts
Needle Range US: 5-7 (3.75 - 4.5 mm)
Knit Gauge Range to 4": 21-24 sts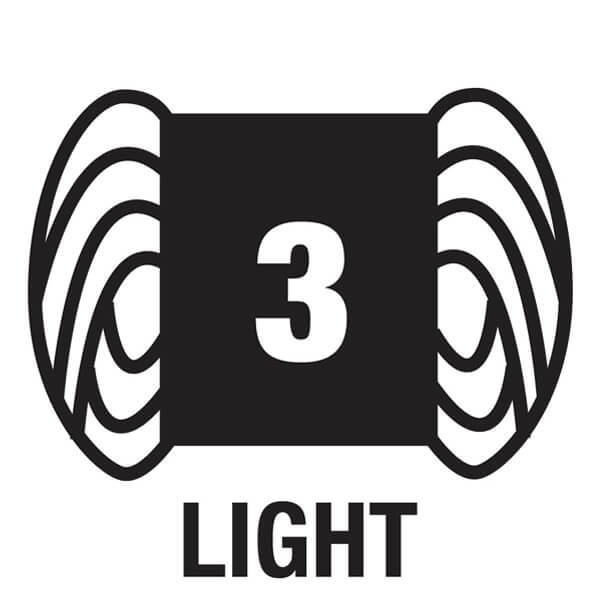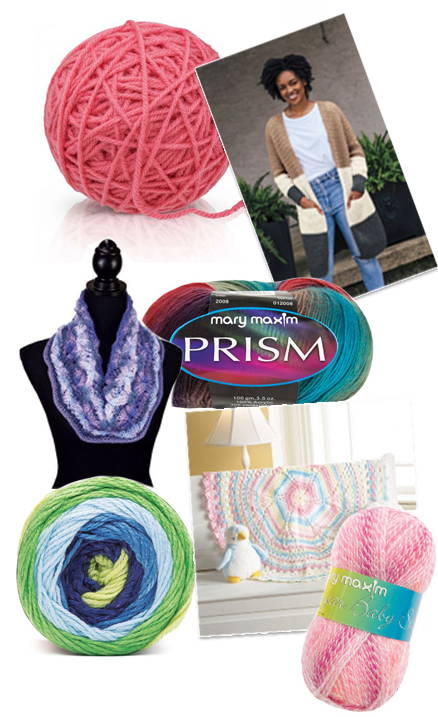 DK weight yarn is one of those yarn weights that is very gauge dependent. Changing your needles could move you from a size 3 to a size 2 yearn. DK yarns make wonderful baby items and garments. The letters DK stands for Double Knitting, a common technique used in vintage knitting. It's a technique where you use two strands of yarn, but it is more commonly known as a yarn size. DK is referring to using two strands of this yarn to equal one strand of Worsted Weight yarn.
Size 3 yarns is the typical end of the Baby Yarns spectrum. Although beautiful pieces for babies have been made in nearly every size and type of yarn, traditionally, baby items are made with Size 1, 2, and 3 yarns. Patons Astra yarn is one of our popular size 3 light weight yarns that makes great baby products.
Size 4 Worsted Weight Yarn
Hook Range: I-9 to K-10.5 (5.5-6.5 mm)
Crochet Gauge to 4": 11-12 sts

Needle Range US: 7-9 (4.5 - 5.5 mm)
Knit Gauge Range to 4" 16-20 sts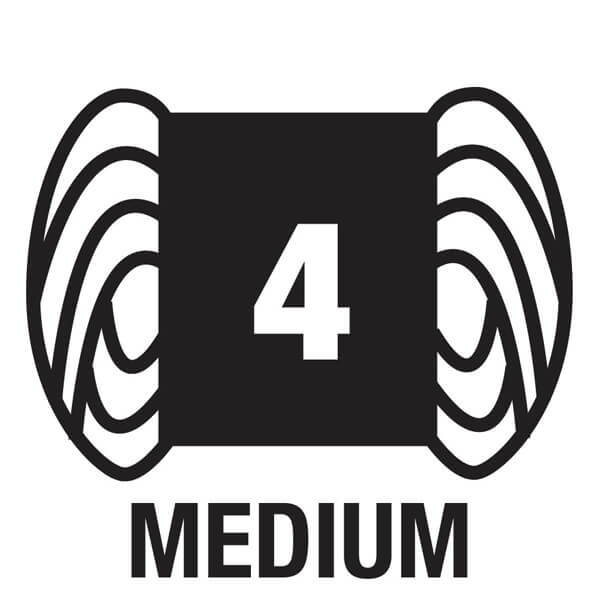 Worsted weight yarn is by far the most popular size yarn. It's the most versatile and used for pretty much anything. When most people think of yarn, they think of worsted weight yarn. The term worsted refers to the 12th-century city of Worstead, England, and was the epicenter of English weaving and spinning. If you wanted high quality woven fabrics and yarn in 12th century England, you went to Worstead. Worsted yarn can also refer to the worsted technique of spinning, also known as short draw, is generally spun from long stapled fibers. Short draw spun yarns are smooth, strong, sturdy yarns, and dense. Short draw spun yarns have low elasticity, making them good for use in weaving.
Many use the terms Worsted Weight and Aran Weight yarns interchangeably, but they are not the same. Both categorized as Size 4 Medium Weight Yarns, Aran yarn is slightly thicker but not bulky. Aran yarn historically referred to yarn used to knit iconic Aran cables. Check out our post on Aran Knitting. Today it simply refers to a slightly thicker worsted weight yarn. You may also see some describe white or cream yarns referred to as an Aran yarn, but they are referring to the hue of the color not the weight of the yarn, and it's important to understand that technically Aran only refers to weight.
Hook Range: K-10.5 to M-13 (6.5-9 mm)
Crochet Gauge to 4": 8-11 sts
Needle Range US: 7-9 (4.5 - 5.5 mm)
Knit Gauge Range to 4": 16-20 sts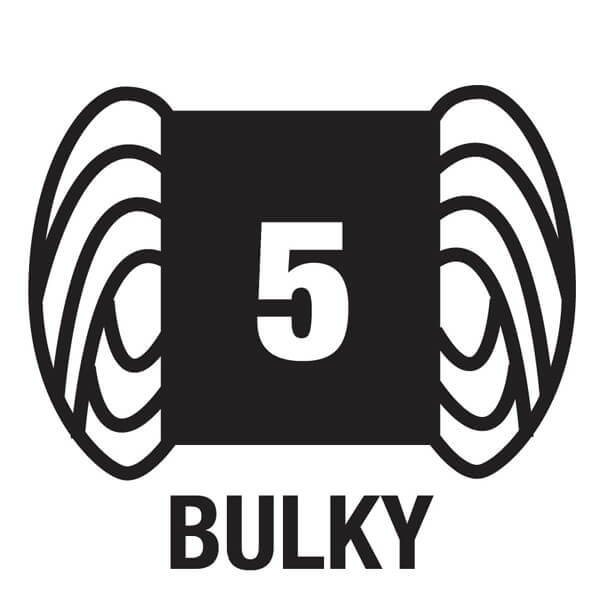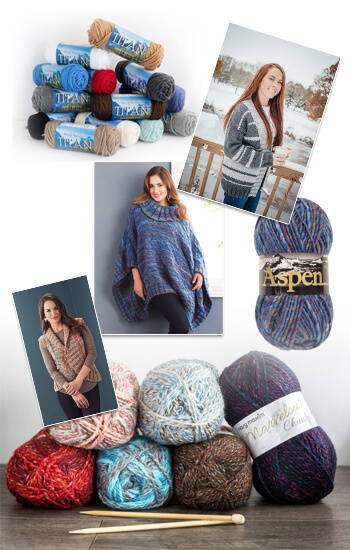 Chunky yarn is a common type of yarn in the bulky category. Chunky yarn is a lighter weight bulky yarn somewhere in between an Aran yarn and a true Bulky weight yarn. You may find some reference the texture of a yarn and the way that it is spun as what makes a yarn a chunky yarn but in fact it is a subcategory of Bulky weight yarns.
As trends change, yarns come in and out of fashion. Our Titan, a Size 5 Bulky weight yarn, was very popular for graph-style sweaters in the 1960's and is a re-emerging trend today. There are so many gorgeous cabled bulky knit and crochet items (yes, I said cabled crochet items) available it's no wonder that this size yarn is a recent favorite.
Hook Range: M-13 to Q (9-15 mm)
Crochet Gauge to 4": 7-9 sts
Needle Range US: 7-9 (4.5 - 5.5 mm)
Knit Gauge Range to 4": 16-20 sts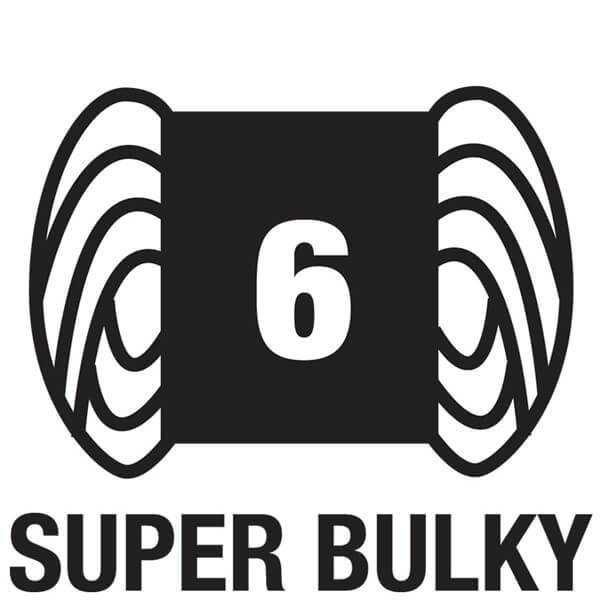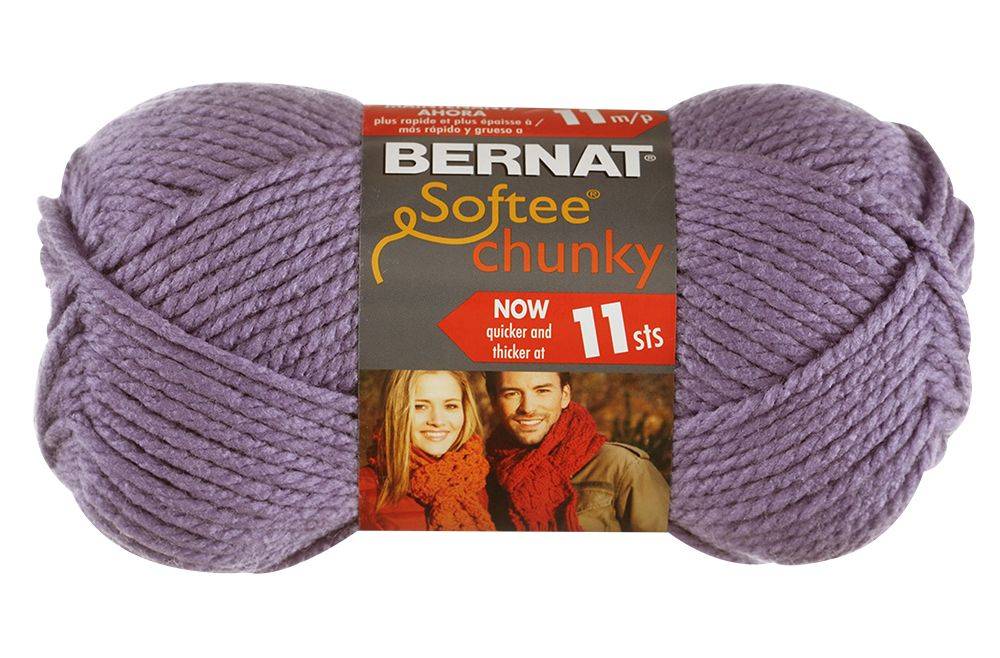 Super bulky yarns have risen in popularity lately and are traditionally used to make home goods; however, we have seen these yarns featured in garments and blankets recently. Many novelty yarns have been introduced like T-shirt yarns, and other tape yarns.
Hook Range: Q & up (15 mm & up)
Crochet Gauge to 4": 6 sts or less
Needle Range US: 7-9 (4.5 - 5.5 mm)
Knit Gauge Range to 4": 16-20 sts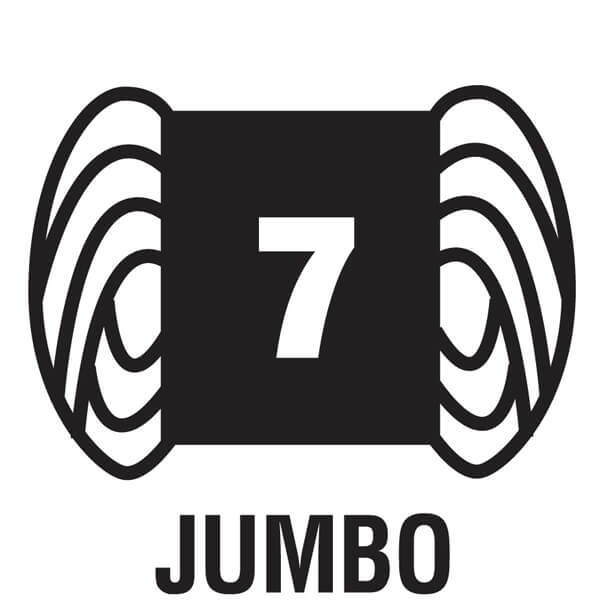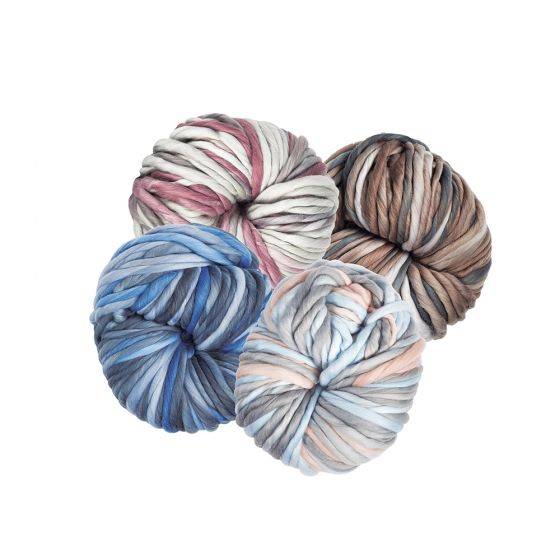 The current trend in Jumbo yarns is the roving style yarn. When yarn is this thick, stitch definition is important and roving yarns produce wonderful stitch definition. Take a look at our blog post on Size 3 roving yarns.
Download this Yarn Guide, it's a helpful and practical quick reference guide and keep it in your Crochet and Knit Organizers. This is a great tool to keep with you when yarn shopping and when evaluating yarn.
Stay Tuned
We have so many great things coming soon just like this stitch tutorial. We hope you enjoyed this handy yarn guide.
Make sure to download the PDF
and keep it in your organizer. We also have more informative yarn guides, full of wonderful crafting ideas and incredible yarn.


Be sure to follow us on Social Media!
Check us out on Instagram, Facebook, and Pinterest.
Happy Crafting