Mary Maxim Prism is by far one of our most popular acrylic light weight yarns along with brands such as Patons Astra. It is favored for its unique characteristics and the yarn's luminescent color. We love working with this yarn and know that you will too. In this post we talk about how to work with roving yarns and why they are so special.
Roving Acrylic Light Weight Yarn
Rovings are produced during the process of making spun yarn. When yarn is spun, fibers are spun together, then those fibers are spun together to form the yarn that you craft with. The roving's main use as a fiber is that it is prepared for spinning to make the final product. However, rovings may also be used for specialized kinds of knitting or other textile arts.
Think of your basic 4 ply worsted weight yarn. One of those plys at one time was a roving. Some rovings are very consistent in thickness as in many of the bulky roving yarns and vary in thickness in others, the Fair Isle Skye yarn used in our Skye Knit Throw, for instance, is a consistent bulky roving yarn. Other roving yarns vary in thickness and consistency but produce some stunning effects as in our Prism yarn.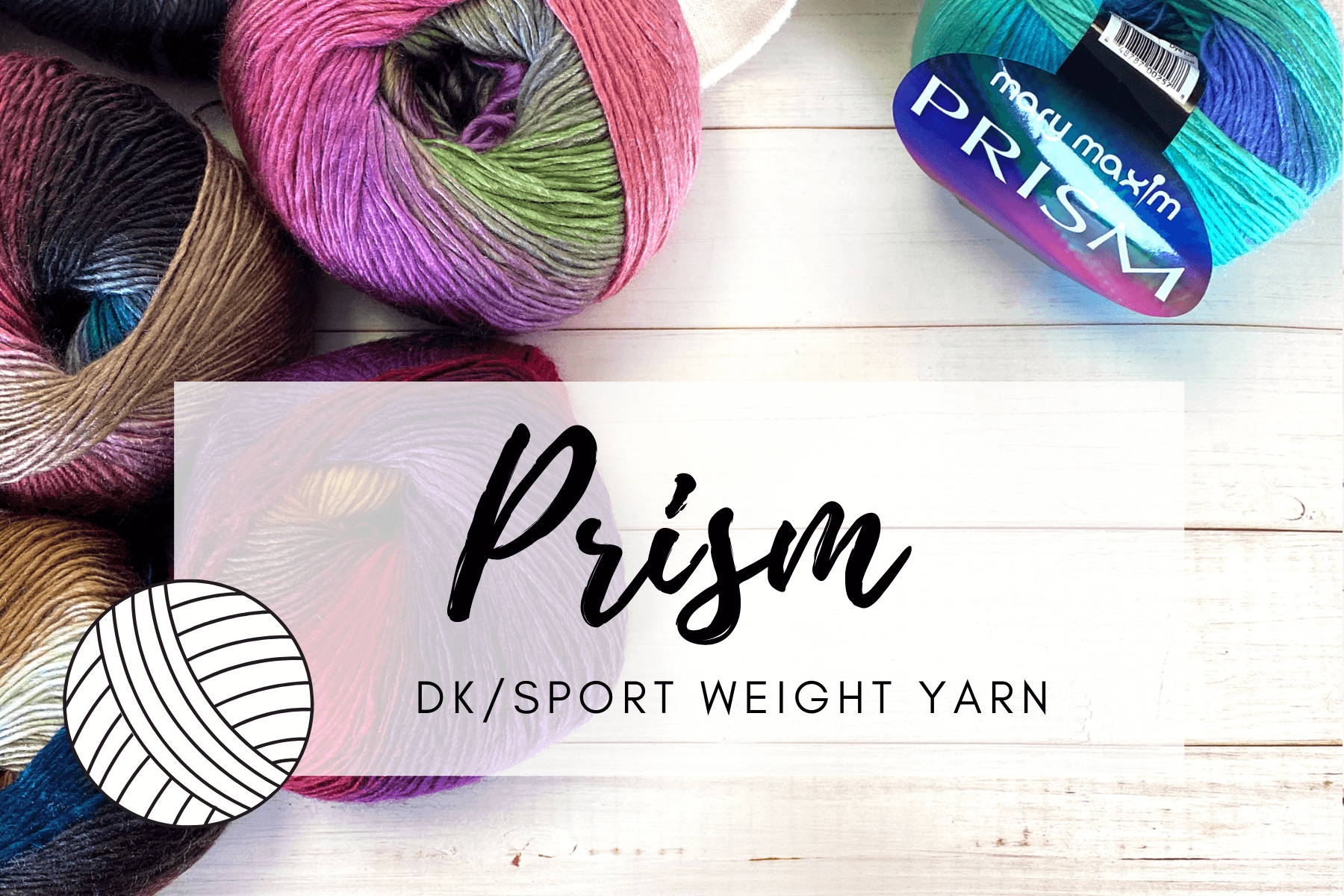 Working with Roving Yarns
When you are working with a roving yarn, a certain amount of trust is involved. Because of the manufacturing process, roving yarns may not be as strong on your hook or needle, but once it's worked into the fabric of your project, the fibers support each other, strengthening your item. This is especially true for crochet items; the looping of crochet stitches secures and strengthens the fabric. Knitted Prism fabrics tend to be slightly more delicate because the loops lay flatter. Be careful of the tension on your hook or needle, and try not excessively pull or tug on your yarn. Most importantly make sure to include care instructions if gifting the finished product.
Roving yarns that have inconsistencies in texture and thickness are going to show off these unique characteristics in the finished fabric. This element has been considered when designing patterns. It's the same if you are refinishing a cabinet and using a crackle paint or a specialty finish. Those inconsistencies in the paint give character to the piece and add value to the design. Take a look at these two swatches one knit with Prism yarn, one knit with Mellowspun yarn. Both yarns are the same weight. Note that the variation in thickness of the yarn does not affect the gauge.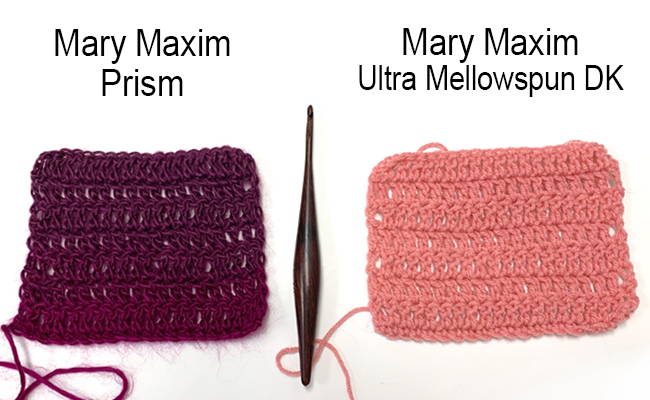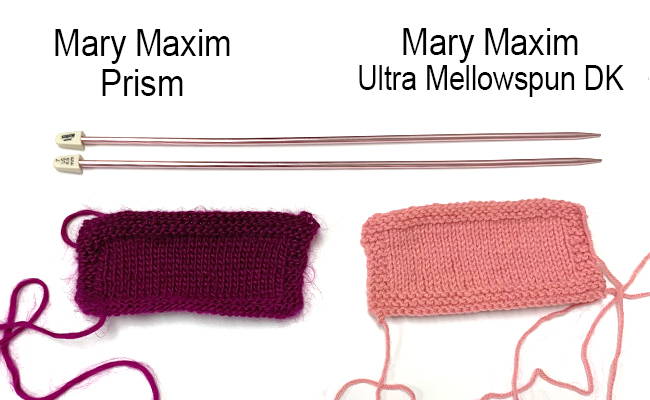 As you can see, the differences in the thickness of the yarn is barely noticeable but does offer some added texture to your finished piece.
Roving yarns naturally shed fiber. You may find that some bits of fiber may gather by your fingers as you work. This is normal and doesn't damage the yarn at all. Be careful when you frog this yarn, as you rip out stitches you may end up tangling fibers, or in the worst case even breaking yarn, and forming knots. As your finished fabric begins to wear, it will softly "fuzz-up" and retain a soft halo effect around the fabric. As your finished product wears, this soft halo effect almost looks like mohair without the expense of using mohair.
Prism Yarn has a few unique properties that make this yarn so special and among our favorite yarns to design with. The roving properties of Prism also contribute to the luminosity of this yarn. This yarn reflects light that makes the fabric shine, and your stitches pop.
Prism is also a variegated yarn with a very slow color transition. Take a look at the crochet swatch above and see how three different shades of purple are shown in the sample, we used the color Orchid. It's important to note that your yarn will transition quicker when crocheting the fabric vs. knitting the fabric.
Product not found. Have you uploaded products to your store?
FREE CROCHET PRISM PATTERN -
SPORT WEIGHT ROVING
The Easy Bow Headband is a quick and fun 30-minute project and a perfect pattern to whip up as a last-minute gift or if you are looking to make a fun fall accessory to customize for a favorite outfit. To crochet the Easy Bow Headband, you will need 1 ball of Mary Maxim Prism Yarn (one ball makes multiple headbands) and your Size 7 (4.5mm) hook.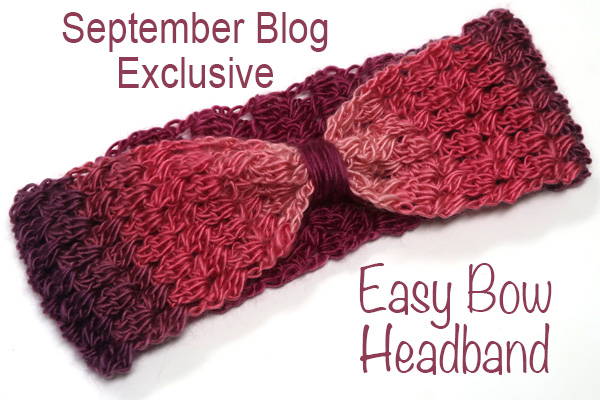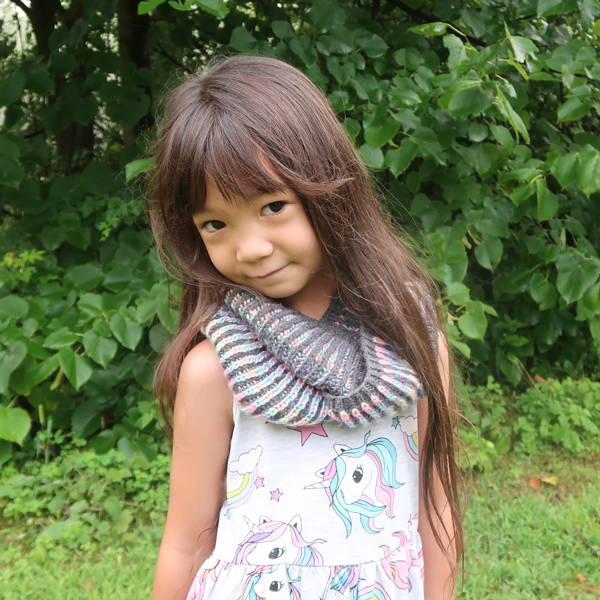 FREE KNIT PRISM PATTERNS -
SPORT WEIGHT ROVING
Check out the August 2019 Blog Exclusive. We featured a knit Two-Color Brioche Cowl with Mary Maxim Mellowspun shown in Dark Grey and Mary Maxim Prism shown in Rainbow. If you've followed along with Part 1 and Part 2 of the Brioche Knitting series, then you've already been admiring the beautiful ribbed stitches associated with Brioche Knitting Patterns.
We have so many great things coming in the new year. We are working on super handy needle and hook guides to keep in your project bag or your yarn stash organizer. We have some great collaborations in the works like Osage County Crochet's next CAL make sure to check them out it starts soon. And we have more informative yarn guides like this one full of wonderful crafting ideas and incredible yarn.